Outdoor Playground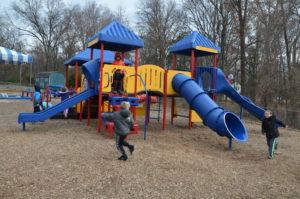 Our modern, safe and fenced outdoor playground is one of the best early childhood playgrounds in Bridgewater!  Our playground is equipped with a new play structure that has 4 slides, covered play area, climbing structures, and more!  In addition, our covered sandbox, tire swing, climbing structures, and garden help children develop their social, emotional and gross motor skills while enjoying the outdoors!  The outdoor umbrella shades our picnic tables where the children do art projects, enjoy a snack, or just hang out in the shade.  Our playground meets the requirements of The Playground Safety Subcode for New Jersey N.J.A.C. 5:23-11.
Indoor Playroom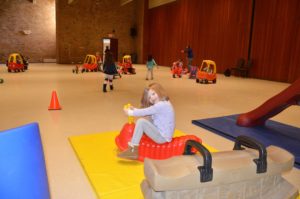 Our indoor gymnasium provides a year round space for the children to ride bicycles, play ball, run, and play with their friends.   Weekly physical education classes as well as yoga, soccer and other extracurricular activities are also held in our indoor gymnasium.
Classrooms
Each preschool class has a dedicated classroom.  Our kindergarten class uses 2 classrooms; a "home classroom" and an adjacent classroom for small group work and special projects.  Every classroom is filled with age-appropriate learning materials for the children to explore.  Theme-based centers as well as dramatic play areas, reading nooks, sensory tables and manipulatives are thoughtfully designed for developing the pre-academic (preschool) and academic (pre-K and kindergarten) skills of our children.
Computer Lab and Technology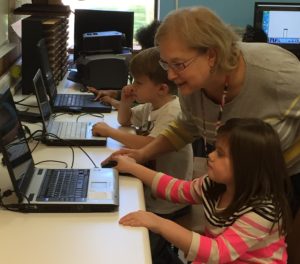 Our computer lab has eight desk-top computers and a range of developmentally appropriate educational software.  Additionally, our teachers use two classroom computers and two ipads to enhance learning in our pre-kindergarten and kindergarten classes.
Safety
Our facility is housed within Temple Sholom.  We have comprehensive measures in place to ensure your child's safety.
Our security system allows us to monitor the building and oversee entry and exit to/from our school.
We routinely perform emergency drills and have emergency preparedness plans in place.
Our staff maintains current certifications in both CPR and First Aid. We are allergy aware and trained to administer EpiPens.
Drop off is curbside where children are safely escorted into the school.
Children are signed out daily by an authorized parent/caregiver.