TRIBUTE TILES AND TRIBUTE CARDS ARE AVAILABLE
Honor a special person, remember individuals, commemorate an occasion or celebrate a simcha, with a tribute tile
or tribute card.  Be proud to know your gift supports The Preschool Place and Kindergarten.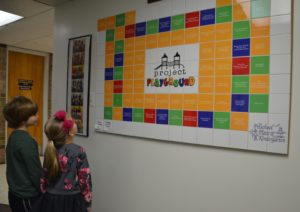 Tribute Cards:  For donations of a minimum of $5, you will receive a printed tribute card and envelope for your personal use.  A five-card package is available for minimum donations of $20.  Your donation supports our general education fund.
Tribute Tiles: For donations of $100 or more, your personalized message will be engraved on a tile and added to our beautiful tile wall.  Your donation supports project PLAYGROUND; our fund for playground improvements, playground maintenance, and active play and wellness programs which promote the physical and emotional wellbeing of children.
Donations may be made by paypal (please click the donate button below), cash, or check.  Please complete our Tribute Order Form to tell us the special message you wish engraved on your tile, or your card request.  Return the Tribute Order Form, and cash or check donations, to The Preschool Place and Kindergarten office.  Tribute Order Forms are also available at the office.