Preschool 2s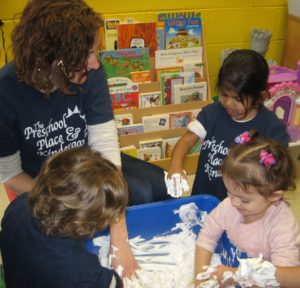 The two year old class is for children who are two by September 30, with a maximum student to teacher ratio of 12:2. The program is based on the curriculum guidelines set out by NAEYC (National Association for the Education of Young Children).  Our developmentally appropriate program focuses on four major areas: social/emotional, physical, cognitive and language.  It is a play based program addressing the unique needs of two year olds, many of whom have never been in a school setting.  The curriculum includes music and movement which are a vital component for building brain development.  Our classroom routine provides a predictable schedule that enables children to feel comfortable and confident at school.  There are many and varied opportunities for children to play, explore and develop their own interests and creativity within our thoughtfully structured learning environment and classroom routine.
Our most important goals are for children to get along well with others and become independent learners, as well as: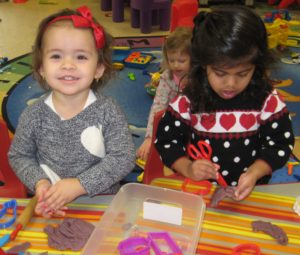 positively separate from parent or caregiver;
develop fine motor coordination through the use of manipulative materials such as play dough, beads for stringing, puzzles, crayons, paint brushes and more;
develop gross motor coordination through daily play in our fenced outdoor playground with space to run and equipment for swinging, climbing, balance and sand play or indoor gymnasium with tricycles and equipment for climbing, balancing and space to run;
develop problem solving skills both academic and social through guided play and one to one interactions between teachers and students;
develop a love of appropriate children's literature by being read to as well as enjoying books during free play;
develop vocabulary through songs, finger plays and imaginative play;
participate in individual, small group and large group activities.
Our two year olds enjoy a weekly physical education class with an early childhood specialist.  In this class, children have fun with exercise, and build their gross motor skills and self-esteem.
Our dedicated experienced teachers work in partnership with parents and caregivers for the benefit of each child.  Communication between home and school is continuous through email and written classroom information, daily contact with teachers at dismissal, and Director updates.  In January and May preschool progress reports are given and parent/teacher conferences are offered.
Preschool children are active learners who love to learn by "doing", and your child will love to experiment, create, explore, question and discover at The Preschool Place and Kindergarten!
Class Hours | Registration/Forms