Small class size, big learning outcomes
– Full-day Kindergarten New Year's tuition special offered, expires 31 January 2018 –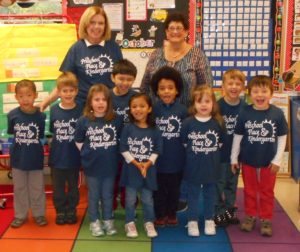 The kindergarten class is for children who turn five by September 30.    Our kindergarten program is designed to best prepare your child for academic success in first grade and beyond.  Our kindergarten program is the perfect choice for your child because:
Our curriculum is taught by certified and experienced teachers with a proven record of leading each child to reach their highest potential.
A maximum class size of 16 students with 1 full-time teacher and 1 full-time teaching assistant means more quality one-on-one attention for your child.
The learning process and pace of learning is driven by the needs and ability of your child. Our teachers continually observe and assess your child's cognitive, social, emotional, and physical growth and work to achieve the best learning outcomes for your child.
Our curriculum exceeds the knowledge and skill requirements for kindergarten as outlined by the Bridgewater-Raritan School District.
Your child will benefit from ongoing parent-teacher communication including weekly classroom learning updates, individual emails, personal conversation, comprehensive academic assessment reports, and parent/teacher conferences.
Our program uses two adjacent classrooms providing extensive space for your child to grow as an independent self-starter actively involved in the learning process with centers in both rooms allowing your child to explore materials and interact cooperatively with classmates.
The culmination of our academic year is a 'valedictorian' speech given by each student at our kindergarten graduation ceremony.  Every student independently reads their own written speech about their kindergarten experience.  The confidence and ability of each graduating student is outstanding.
The education your child experiences during this year is the foundation for their future academic success.  Our kindergarten core curriculum covers mathematics, language arts, social studies and science, the arts (fine arts, music and performing arts), technology, physical education, languages other than English and library; please take a moment to read our kindergarten curriculum outline.  At The Preschool Place & Kindergarten your child's kindergarten year will be exceptional.