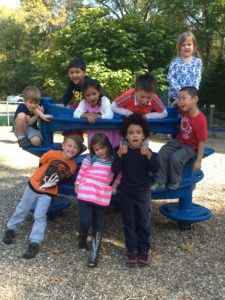 We offer two exceptional kindergarten programs; a private full-day kindergarten program, and a half-day kindergarten enrichment for children attending a Bridgewater Raritan School District public school.
Private full day kindergarten
In our private kindergarten program, 8.45am-2:30pm, your child will thrive in a small class environment that results in big learning outcomes.  Our kindergarten students are confident learners who are well prepared for success in first grade and beyond.    Learn more about our outstanding private full-day kindergarten program and why it is the best choice for your child's kindergarten education.  Attend our full-day kindergarten OPEN HOUSE JANUARY 16 at 9:15am or 7:00pm.  New Year's tuition special offered.  See our Kindergarten Open House Flyer for more details.
Kinder Plus – half day enrichment
Kinder Plus is designed for students attending half-day kindergarten at public school who would benefit from an engaging varied curriculum that enhances creative, academic and social development.  For the 2017-18 school year, Kinder Plus hours are 12:00-2:30pm.  Students may choose to attend 3 or 5 days per week.  Busing is available from Crim and Hamilton Primary Schools.   Discover more about how Kinder Plus will enrich your child's kindergarten year.