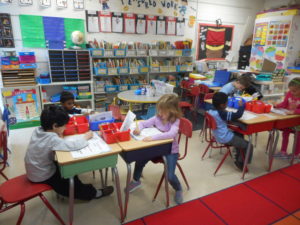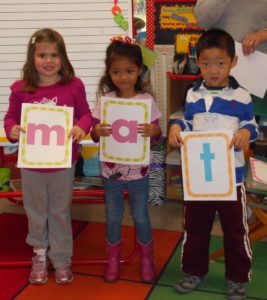 Our kindergarten curriculum meets national standards set out by the National Association for the Education of Young Children (NAEYC).  Our core curriculum is enhanced by enrichment classes that develop our students' knowledge, skills and interest in a broad range of relevant subjects.  Our teachers incorporate the elements of STEAM (Science, Technology, Engineering, Arts, Mathematics) into daily lesson plans.  The curriculum is tailored to serve and extend each child's level in all subjects.

Mathematics 
The Preschool Place and Kindergarten uses "Math in Focus – Singapore Math", as used in the Bridgewater-Raritan School District.
Our math curriculum supports Common Core State Standards and integrates conceptual understanding, visual learning and problem solving.
Our teachers provide ample "hands-on" opportunities using math games and manipulatives, calendar binders, in addition to math activity workbooks and pages.
Language Arts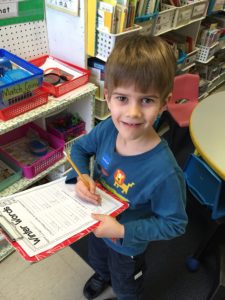 Our reading series is "Reading Street" by Scott Foresman which uses a balanced literacy approach. Children are engaged in purposeful reading and writing activities every day.
An integrated phonics and whole language approach to reading is conducted on a one-to-one basis tailored to meet each child's individual needs and learning style.
The "Handwriting Without Tears" program is used to teach correct letter and number formation and develop good habits for successful penmanship. Our school introduces the "Six Traits" model of writing.  The focus is on sentence formation as well as sentence structure.  Students keep writing journals.
Creative writing: combining phonemic awareness with inventive spelling and original thoughts.
Science & Social Studies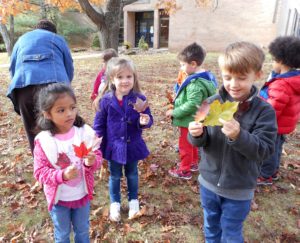 Science and Social Studies is integrated across the curriculum. Students enjoy weekly hands-on science experiments and activities where students form a hypothesis, test their hypothesis, engage in group discussion, record scientific results and conclusions.  As writing skills progress, children write reports about their experiments.
Students are taught an understanding of community and the broader world.  Our multi-cultural population helps children develop a sense of belonging to our diverse community.  Children share their cultures, learning to respect and appreciate differences.
A range of topics are studied including American history, the democratic process, and traditions. Students learn patriotic songs including The Star Bangled Banner, America the Beautiful, This Land is Your Land, and You're a Grand Old Flag.
The Arts: Performing Arts; Fine Arts; Music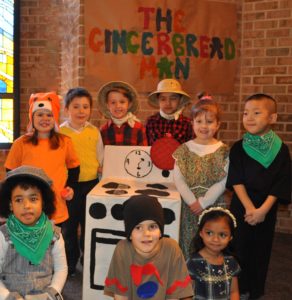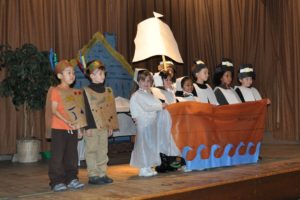 Throughout the year, students perform plays and musicals on stage in front of an audience of parents, friends, and other students. Practicing and being part of the final performance develops our students' creativity, imagination, confidence, perseverance, and involves real team work between the students.
Our art program explores creativity in a variety of ways and mediums, always encouraging individual artistic expression and process over final product. Students learn about famous artists and their styles, and enjoy creating their own works of art in the style of those artists.
Children acquire an appreciation for all types of music including classical, folk and popular.
Field trips to the theatre, nature sanctuaries, planetariums and art museums enrich our students' educational experience.
Technology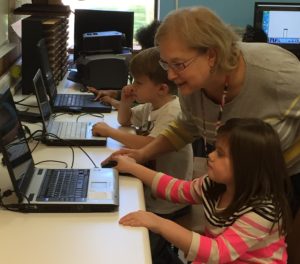 Weekly "tech-time" computer class with a specialist teacher in our computer lab; each student works independently in guided lessons. IPads and laptops are also used in the classroom as  learning tools.
Physical Education
Students enjoy weekly physical education instruction with a specialist, doing activities including yoga, obstacle course, sports games, dance, and exercise. Students are taught to have fun with exercise while building gross motor skills and self-esteem.
Gross motor coordination is developed through daily play in our fenced outdoor playground with space to run and equipment for swinging, climbing, balance and sand play. In addition, we make great use of a large indoor playroom set up for climbing, balance, running and free play.
Language Other Than English (LOTE)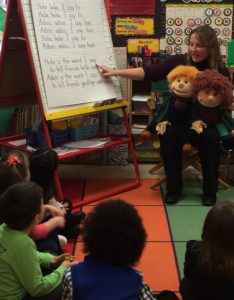 Students meet weekly for Spanish language class. Students learn vocabulary and basic conversation through songs and games.
American Sign Language is introduced through songs and activities.
Library
A weekly library class further fosters our students' love of reading.  Students enjoy borrowing a book of their choice from our age appropriate library.