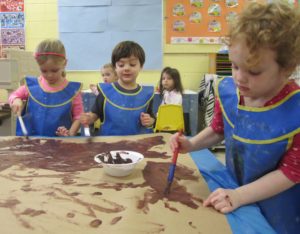 This class meets Mondays 11.30-2:30.
Create masterpieces! Have fun! Art Unlimited is all this and more. Your children will tap into their creative side and make beautiful works of art using different and unusual methods and mediums. The end results will astound you!
All enrichment classes include a rest period from 11.30-12:00 and lunch time. You will need to send your child to school with a dairy lunch that will be refrigerated and a backpack with a beach towel (to cover a cot) and a small blanket. You will receive more information once your child is enrolled.   There is an additional $25 charge per enrichment for children not enrolled in a general preschool class.