Jump into June … and July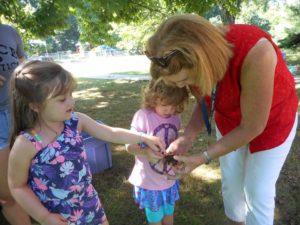 The Preschool Place & Kindergarten is excited to offer its very successful Jump into June … and July program.  This year is our Camp's 9th year of Summertime fun!  Our program will run Monday – Thursday from 9:00-1:00 for 6 weeks starting on June 18 and ending on July 27.  Families may choose to sign up for 1-2-3-4-5, or all 6 weeks.  Children ages 3-6 years will love the wide range of indoor and outdoor activities they will do in our season of warm weather.  Summer Camp at The Preschool Place and Kindergarten provides a warm, nurturing environment, perfect for a child's first camp  experiences.  The program has weekly themes and includes playground, outdoor preschool sports, water play, stories, and snacks.  There are daily theme based activities along with specialty classes in art, nature and science, music and movement.  Our completely air-conditioned facility keeps the fun going rain or shine.   For more information see our Camp Information Letter. 
Our Camp is open to all children who will be 3 by October 1, 2018.  Children should be toilet trained.  Early bird discount of more than 15% is offered for registrations received by March 15, 2018.  To register please complete our Camp Application Form and return it to the office.  All camp weeks are subject to enrollment.  Here's to sunny days and summer fun!