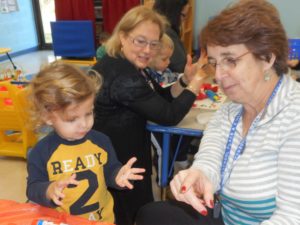 Our Transitional Twos program is a 12 week session.  The class meets Thursday mornings or Friday mornings 9:30-10:45.  The Thursday morning session started February 1 and runs until May 17 (no class March 29).  The Friday morning session started February 2 and runs until May 18 (no class February 16, March 30 and April 6).  Registration for these sessions is ongoing while space is available.
Your child is 2 and you'd like him/her to get some experience away from you, but…
•   He/she is not old enough for preschool (birthday after October 1)
•   He/she is not ready to be away from you for a long period of time
•   You are not ready to have them in a drop–off program yet
Transitional Twos is the class for you!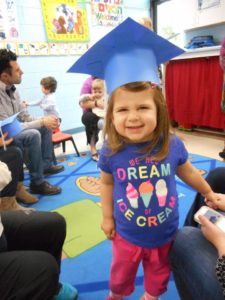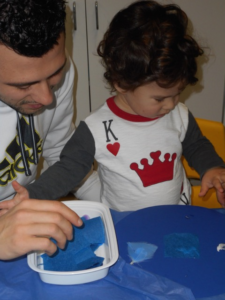 A step-up from Someone Special & Me, this class will help your child get used to being in a classroom without the presence of a "familiar adult." There will be 2 experienced teachers in the classroom and our class size is limited to 6 children. You will remain in the classroom for the first few weeks to help your child become comfortable in the class and with the teachers. When your child is ready, you will be able to leave the room and relax in our library, talking with the others who brought in a child, free to peruse our Parent Resource Library (there is internet access in that room).  In the classroom, children will engage in all kinds of activities and have a snack and circle time with their teachers. At 10:30 you will join your children in the playroom for some active play with our preschool 2s.
What a wonderful way to prepare your child for preschool!