Free Playgroup Open to the Community
Commences February 7, 2018
Wednesdays 9.30am when school is in session. 
Families with a child age birth to three years are encouraged to join our free weekly playgroup on Wednesdays 9.30am.  The early years of a child's life are vital for cognitive, social and emotional development; and "play" is how our youngest children learn and grow.  The Preschool Place and Kindergarten offers a quality play opportunity in our safe educational environment.  Our play group will also connect parents with other parents in an environment where parents can share experiences, learn from each other and build social networks.
The playgroup meets in a dedicated classroom filled with age appropriate resources.  The group may go out to our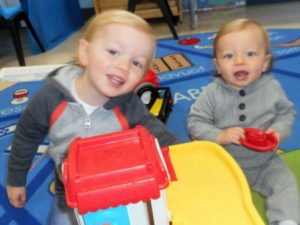 modern and safe outdoor playground or enjoy the indoor gymnasium with Cozy Coupes, tricycles and other equipment.
We are proud to offer this free play group to our community.  We hope many Moms, Dads, Grandparents and caregivers with young children will become part of our fun play group!  You and your friends are always welcome.
For more information email  info@preschoolplace.com, call us at 908-722-0101 or see our Free Playgroup Flyer.